No Deal coming for Steinbach, Bengals still bungling
on
February 27th, 2007
at
9:42 pm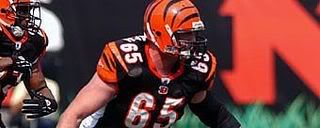 Versatile Guard Eric Steinbach apparently won't be back with the Bengals next season as the free-agent signing period approaches without a contract offer.
Silly move in trying to penny-pinch and not pay one of the NFL's permier Offensive Guards will cost Bengals in the long run
by Mike Zimmer, Bengals Honk
I've lived and died with this stupid team and as they have revived themselves over the last couple of seasons, I have started to like them less and less. Reasons? Well, that little 15-year streak in football Siberia was just the begining, the multiple arrests and under-achieving were next and now, it's the signs pointing to the fact that afterall that turmoil, all the re-tooling, all the relative success of the last few seasons of mediocrity, they are still the same old stupid Bengals.
The club apparently is more concerned about re-signing blocking Tight End Reggie Kelly (who I like and think is a good locker room guy but is expendable) and multiple use player Kevin Kaesviharn (again a guy I love) than signing one of their stallwart and mainstay guys in the middle. Eric Steinbach, the 5th year player out of Iowa has been a lynchpin in the teams' offensive line and has missed only 1-game in his entire career so far. He's reguarded as one of the top interrior offensive linemen and has been able to do whatever he's been asked and where ever he's been asked up and down the line. He's mobile, and a major reason the running game is able to move. Yet, the club has apparently walked away from him sighting that his potential $6-7-million dollar price tag would break the bank. Which is a silly, stupid mistake.
Steinbach who has been quiet despite heading into his first go 'round of being an un-restricted free agent, fully expected an offer to be forth coming from the Bengals after the season ended. Instead, the club didn't even bother talking to he or his agent and are set to let him walk. Read about it here on www.bengals.com.
This is a crap move where they are now paying for mistakes where other contracts were concerned. Over paying fragile Levi Jones for one, and then having dead money tied up in turds like Antonio Chapman, Chris "StupidMotherFucker" Henry and Chris Perry just to name a few. Throw in a bushell of turds they have collected over the last few drafts that they don't pay a whole lot, but add up when you consider none of them really played and more than likely won't. If this was a model franchise like the New England Patriots or the Pittsburgh Steelers, they wouldn't have all this garbage loading down their budget and would replace the fill each season with college free agents and lower round draft picks–enabling them to keep certain vitale members on the squad like Steinbach. It's amazing to me that the Patriots are reguarded as a bunch of no-names, yet at every key position they have a solid quality veteran and behind them or around them they have guys that were absolutely brilliantly scouted. But that's too much to ask of the NFL's answer to Big Lots, trying to do too much with too little and then asking for it on the cheap.
This silly move combined with the painfully obvious need to over-pay Justin Smith are going to hurt the team in the long run. Smith is a need player but given the choice between him and Steinbach, I'd take #65 in a heart beat. Smith is solid, but he didn't exactly make that defense all that much better while Steinbach was keeping Carson Palmer upright and keeping the chains moving with Rudi Johnson riding behind his blocks. Good Luck Eric, I'm sure we'll be seeing you in Cleveland or Atlanta or someplace helping a team real soon.