Beer of the…er…Cider of the Month: Woodchuck
on
February 8th, 2007
at
5:11 am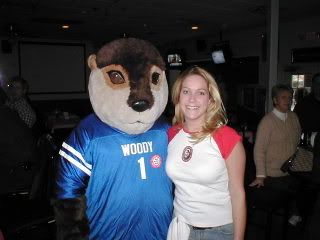 Mascot Woody the Woodchuck poses with Lindsay Kudulka at Amano's in Worthington, Ohio last Friday
In case you missed it, last Friday was Ground Hog Day. The rodent didn't see his shadow but had plenty of cider to offer instead
by Mike Zimmer
Have you been living the same day over and over again since Friday like Bill Murray in the very funny movie Ground Hog Day? While I have been (which is nor relevant or going to be expanded upon), you may have just forgotten that it is the greatest of all February holidays outside say, that one day…oh…Valentines Day. Friday Punxsutawny Phil, the famous prognosticator of spring didn't see his shadow, for only the 15th time in 96-such holidays. Which despite this nasty cold spell full of sub zero wind-chill, several inches of snow and single digit highs, means that spring is right around the corner. As a salesman at a beer and wine distributor (as a part time diversion from writing on this here site) I have the distinct privledge of selling a fine product called Woodchuck Cider. Ground Hog's Day is the best holiday to celebrate and promote Woodchuck, as a ground hog and a woodchuck are one in the same. The product that is named after the fury little devil, is a quality traditional cider produced in Vermont.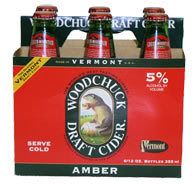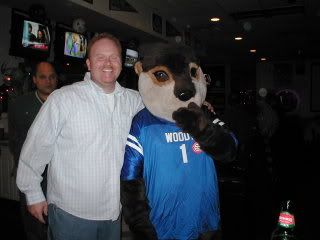 Yours Truly, "working" the crowd with Woody
This past Friday night we took Woody (pictured above) around town here in the Columbus area to visit five establishments that were featuring the product. It was hard "work" to be sure. Woody was a big hit and the cider was well recieved too. There are a variety of styles that Woodchuck Cider offers. They offer a Granny Apple Smith which is a nice blend of tart and sweet and has a crisp finish. I am a fan of the Dark and Dry (which isn't given justice by it's name) which is smooth and crisp with a dry finish, and a nice alternative beverage to enjoy with food or in between beers. The Amber which is in the red package (pictured above) is the best seller here in the Columbus area and offers a nice sweet edge to the cider which runs at 5% alcohol. Great on draft, Woodchuck can also be mixed with draft beers. We had a few half-and-half mixtures of Guiness Irish Stout draft poured on top of Woodchuck Amber on draft at The Brazenhead Pub in Grandview.
While not a beer, I wanted to feature this great item even still. I think it ranks right up there with Strongbow's Cider which is a fantastic English style dry cider. So, I offer you Woodchuck Cider as the Alcoholic Beverage of the Month. How's that? Plus, we had so much fun taking Woody around to meet all the young ladies and fine gents who tipped a few Woodchucks with us.
You can learn more about Woodchuck be hitting up www.woodchuck.com