CFB: The Final Top 25 Votes from Big B
on
January 14th, 2007
at
8:56 pm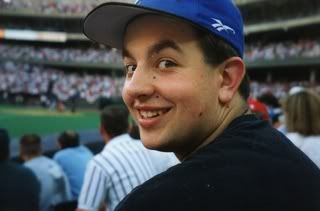 Straight Cash Homey. Big B a few years back down at old Riverfront Stadium. And yes, that is a Detroit Lions hat.
Let's meet and reveal the votes from our Southeastern Region Contributor and Voter.
by Mike Zimmer, National Ranking Coordinator
Despite falling off the handicapping wagon about mid-season and having not contributed to the site whatsoever since, our Southeastern Region Voter Brian C. Barrett has been consistant and on time with his rankings all year. "Big B" as we like to refer to him has a different perspective on the KegeratorNation.com Top 25 because, well, he lives in SEC Country down in Flori-duh. A Buckeye behind enemy lines on Monday night, we shared but 2 "drunk-dialing" episodes as we were both shocked and awed by the crapfest that was unfolding on the TV. Despite massive quantities of alcoholic beverages, no amount of God's gift to the working man could ease or excite us. Big B and I have been friends since 1994 when we were both Domino's Pizza employees and eventually middle-management. College roomates and unbearable sports fanatics, we have the combined annoying sporting and useless facts IQ of any five ESPN talking heads. Alike also in our loyalty to for the most part crap professional teams, we have shared many an evening or late night screaming at television sets, throwing Play Station controllers at one another, drinking, smoking cigars and eating. Now that you think we're a couple of homo's (not that there's anything wrong with that, right?) let's get some more info on our Southeastern Region Contributor and Voter…
SOUTHEASTERN REGION VOTER: Brian Barrett
Nickname: Big B
Age/Status: 31, Married
Location: Cape Coral, Florida
College: THE Ohio State University
Occupation: Degenerate Gambler (and part time dot.com support staffer)
Favorite Sports Teams: Detroit Lions, Detroit Tigers, Detroit Red Wings, Ohio State Buckeyes
Hobbies Other Than Sports Related: Gambling, Fine Cigars, Drinking in the Garage, Eating, Avid moviegoer and anything to do with Kathy Griffin
Qualifications: Extensive amount of time spent watching TV and reasons already explained above.
Here is Big B's final Top 25
#1. Florida Gators (13-1)
#2. Ohio State Buckeyes (12-1)
#3. L. S. U. Tigers (11-2)
#4. Boise State Broncos (13-0)
#5. Wisconsin Badgers (12-1)
#6. Auburn Tigers (11-2)
#7. U. S. C. Trojans (11-2)
#8. Michigan Wolverines (11-2)
#9. Louisville Cardinals (12-1)
#10. Texas Longhorns (10-3)
#11. Rutgers Scarlet Knights (11-2)
#12. B. Y. U. Cougars (12-1)
#13. West Virginia Mountaineers (11-2)
#14. Oklahoma Sooners (11-3)
#15. T. C. U. Horned Frogs (11-2)
#16. California Golden Bears (11-2)
#17. Boston College Eagles (10-3)
#18. Notre Dame Fighting Irish (10-3)
#19. Georgia Bulldogs (9-4)
#20. Virginia Tech Hokies (10-3)
#21. Oregon State Beavers (10-4)
#22. Tennessee Volunteers (10-4)
#23. Wake Forest Demon Decons (11-3)
#24. Hawaii Rainbow Warriors (11-3)
#25. Arkansas Razorbacks (11-3)Others Qualified but not ranked: 26. Texas A&M, 27. Nebraska and 28. Georgia Tech.
26. Texas A&M, 27. Nebraska and 28. Georgia Tech.Hmm, looks pretty straight forward other than, it seems that the SEC locals have gotten to him a bit. LSU and Auburn above USC, ranking Georgia higher than any other voter and not ranking Penn State as all other voters did, may have to do with where he lives as much as anything. None the less, his opinion is valued and accepted and therefore he is hereby asked back for next season to vote for the KegeratorNation.com Top 25. As always, if you are not currently a voter and or contributor to the site, we're always looking to add those interesed in joining in on the fun. Please contact us here at the site.