NFL: Big B phones in his picks from Oktoberfest
on
October 22nd, 2006
at
3:48 am

These 2 may or may not have been with Big B during his visit to a Flori-duh style Oktoberfest.
Pitchers of beer, shots of Jagermeister and lots of Kraut(s) may or may not enhance Big B's picks for week 7
by Dieter Van Zimmer for Heinrich Barrettscwitz
The phone rang late tonight and it wasn't someone asking if that extra Bengals ticket for tomorrow afternoon against Carolina was still available. No, it was Big B, live and in drunkenness from what I think he said was Fort Myers, Florida. Yes, As the picture suggests, Big B was at Oktoberfest when it donned on him that perhaps he might want to let me know about those picks that he usually puts up every week that we all laugh at. After informing me that I needed to visit him down in Flor-duh this time of year next year to enjoy the 3-large tents that comprise the Oktoberfest he was visiting (Although they had nary an authentic German beer to drink there but instead was swilling down Budweiser products which is OK by me as a stock holder of AB but not as an American with a German name)–he let me know which picks he wanted me to put up. And they are as follows:
Carolina (4-2)–at–Cincinnati (3-2) Line: Cin -3Big B was emphatic about making sure that he told me he wanted to take Carolina straight up and right away. Without the talk of a line (in which we were both sure that Carolina had to be favored but were not), he was sure that the Panthers were going to win this game. As stated, I am heading to the game tomorrow and will be certain to give him a full report, especially if the Bengals can recover from what has been a disasterous last couple of games in which their offensive line has been a shell of what it once was. Carson Palmer as well as the running game is taking a beating due to the jumbled line which is suffering from a slew of injuries and sees players out of position and playing dinged. Palmer has already been sacked 17-times this season–only 2 less than he was ALL of last season. With the Panthers having perhaps the best front 7 in the league–I tend to think like Big B does that this one may not be pretty.
San Diego (4-1)–at–Kansas City (2-3) Line: KC +4 1/2After telling Brian that he was not allowed to pick the Arizona at Oakland game that features teams that are a combined (1-11)–he imediately thought of San Diego. Why, I am not sure. He thinks that the Lightning Bolts fresh off of their dismantling of the San Francisco 49ers can now go into Arrowhead Stadium and beat the Chiefs. I tend to agree. After making this pick, there was a long pause in our conversation as Brian, on a cell phone and sitting drinking with friends rambled on about a boat horn in the back ground and for some matter of 2-minutes had me telling him what was going on in the World Series where his beloved Tigers were playing in but he wasn't watching. That should tell you all you need to know about how interesting baseball seems to be now-a-days.
Pittsburgh (2-3)–at–Atlanta (3-2) Line: Atlanta +2 1/2After another go around of the horn and folks asking who the hell Big B was talking too–a round of Jager shots came his way. After downing the mind-erasing elixir of the devil–it isn't hard to wonder why he made a prediction such as this. When told of this match up he uttered the "NO DOUBT ABOUT IT" line. And who did he pick? The Falcons. See, Jager clouds your judgement. Yes, he picked Atlanta, fresh off their ass whipping at home by the New York Giants. And now they host the Pissburgh Stealers who seem to have found their footing after demolishing the Chiefs last week 45-7. This looks like a Pittsburgh win to me.
Minnesota (3-2)–at–Seattle (4-1) Line: Seabags -6 1/2Despite being without Shawn Alexander still, having been beaten down by Chicago 2 weeks ago and then last week needing a last second field goal to beat the St. Louis scRams–Big B was without hesitation in picking the Seabags to beat Minnesota. Even with that -6 1/2 point spread that seems somewhat large considering that Minnesota has hung around in all of their games to the very end (minus that awful debaucle they had in Buffalo a few weeks ago) Big B was all about Seattle. I'm not sold that Seattle can win big–and might need another field goal to win. Take those points and hold fast baby.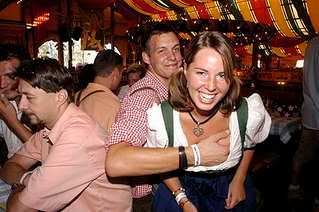 Boy those German's are grabby.
And finally…
New York Giants (3-2)–at–Dallas (3-2) Line: Dallas -3The Pokes come into this one after having somewhat easily blown out Houston last week. Meanwhile the G-Men dominated the Falcons last week in spite of the Soup Nazi (that'd be their hated Head Coach Tom Coughlin). The Soup Nazi…and then the phone rings…
Guess who? It's Big B, from the car he thankfully isn't driving home from Oktoberfest. There is lots of laughter, plenty of cussing and absolutely no point to the call what-so-ever. His Designated Driver (that would be his wife Tonia) is cussing at him and a back seat passenger is hitting him. It is funny–but I question his picks even further.
…He's taking Big D at home on MNF. That would be 4-times he has picked against the G-Men and the Soup Nazi.
That's all for this week I guess. Unless Big B wants to call me up drunk-dialing for a third time and perhaps change a pick.